Push Design: All over the shop
Can you hear that? Some say it's the sound of the retail apocalypse shifting up a gear. We say it's the sound of luxury retail stores facing up to the elephant in the room: they have forgotten why they're there. For life in lockdown, e-commerce has acted as a perfectly practical retail solution. In the future, new ecosystems will be formed that blur the lines between online and offline. But far from signposting the death of bricks-and-mortar, it means the birth of a new in-store personality. It is time to emphasise the human, tactile, informative and experiential interactions that luxury stores can facilitate.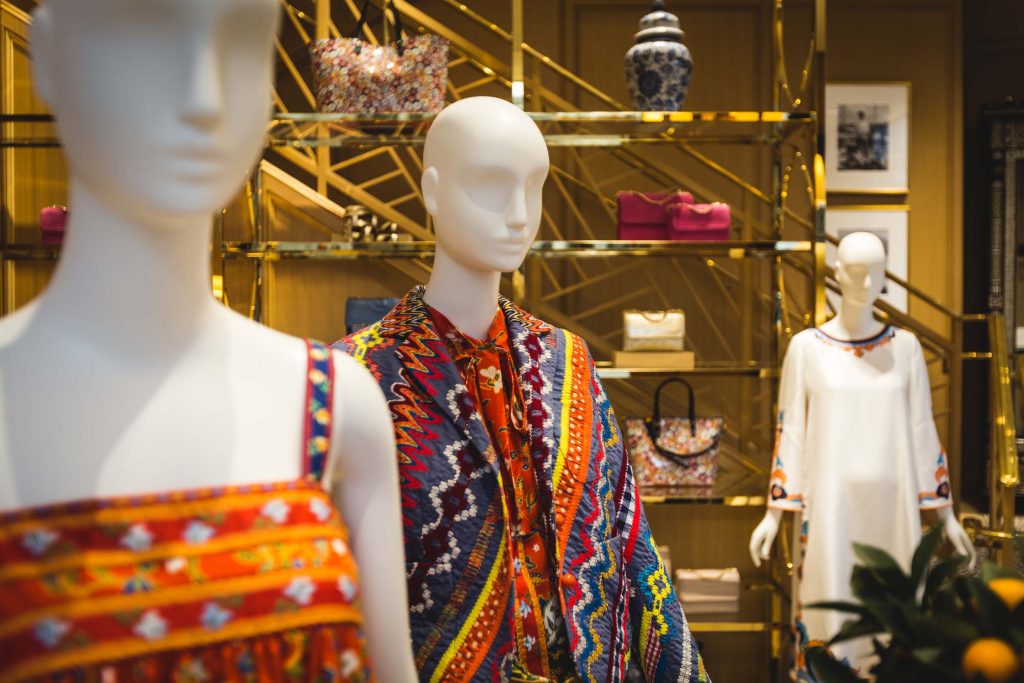 If e-commerce is efficient, then bricks-and-mortar are human. People will look up from their screens when it means engaging (safely) with people and communities. Having depended on local high streets during lockdown, customers have stated their commitment to supporting these local and independent retailers in the future. If high streets can evolve into places where retail, residential, office and leisure spaces mingle, then they could become homes to new communities and the people who want to experience genuine, human interaction on the way. Similarly, your in-store team gives an informative, helpful and human face to your brand. 
The new store is for staging, not storing.
The new, luxury bricks-and-mortar store does not house heaps of inventory. Instead, it allows businesses to exhibit their products in a way that engages their customers. Stores give brands the power to control how their customers discover and interact with their items, an important marketing tool. It offers in-store exclusives for a luxury consumer looking for rare opportunities. McKinsey & Co tell us that 'to better cater to changing customer preferences in the next normal, stores should seek to deliver a superior product-discovery experience and provide access to exclusive merchandise (for example, through "in-store only" and "in-store first" product launches)'.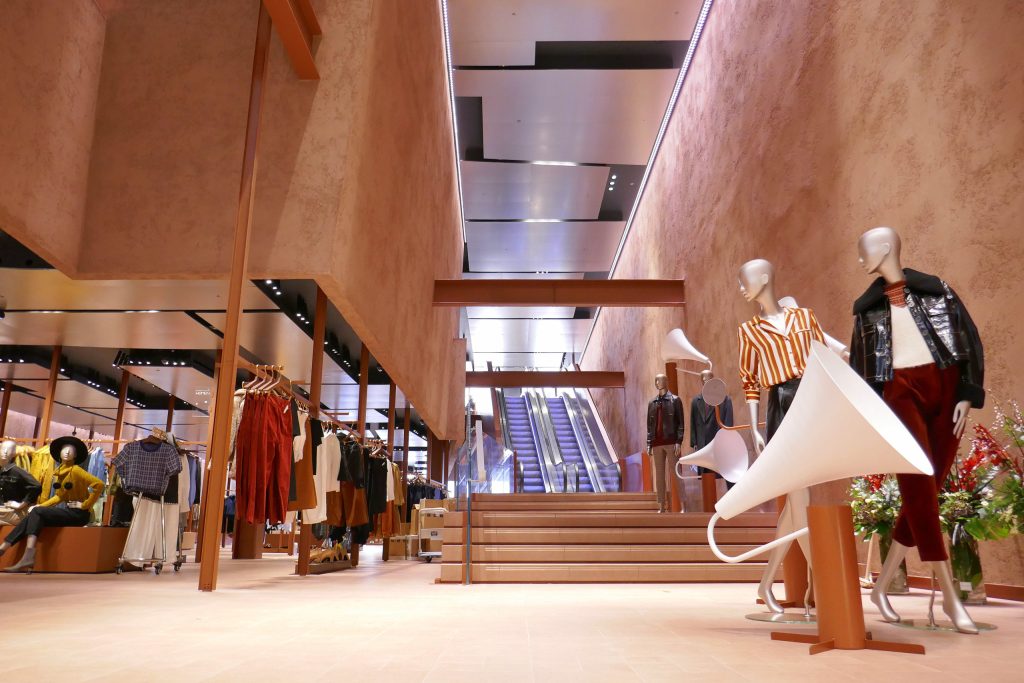 Don't just buy it, experience it.
Even if we could scratch-and-sniff our phone screens or use haptic tech to touch that cashmere jumper, e-commerce cannot replace a store's ability to immerse its customer in a tactile brand experience. In their 2019 Future 100 report, Wunderman Thompson explores how outdoor brands like Canada Goose, Timberland, and Hunter Boots, capitalise on this by 'recreating the cold, wind and rain where their designs come into their own'. Placing their customers in the conditions where their products will thrive provides a multi-sensory experience in which the customer can feel why the outwear is worth the price tag. Canada Goode's CEO said that their experiential store is a perfect post-pandemic getaway, offering 'a break from the insanity of the world today'. 
In a similar ilk, Harvard Business Review tells us that Acne, Celine and Gentle Monster all have stores that serve as artistic escapes into the brand ethos: 'imaginative installations, rich materials, and a uniting storyline allow the space to speak for itself — the physical details, which go beyond a one-dimensional Instagram backdrop, embody the same feelings you associate with the brand'. It is these kinds of touches that we introduce into clients' stores, whether that's a shoe shine service fashioned from a vintage E-Type Jaguar at Charles Tyrwhitt, or a window into the factory in Meantime Brewery's public spaces.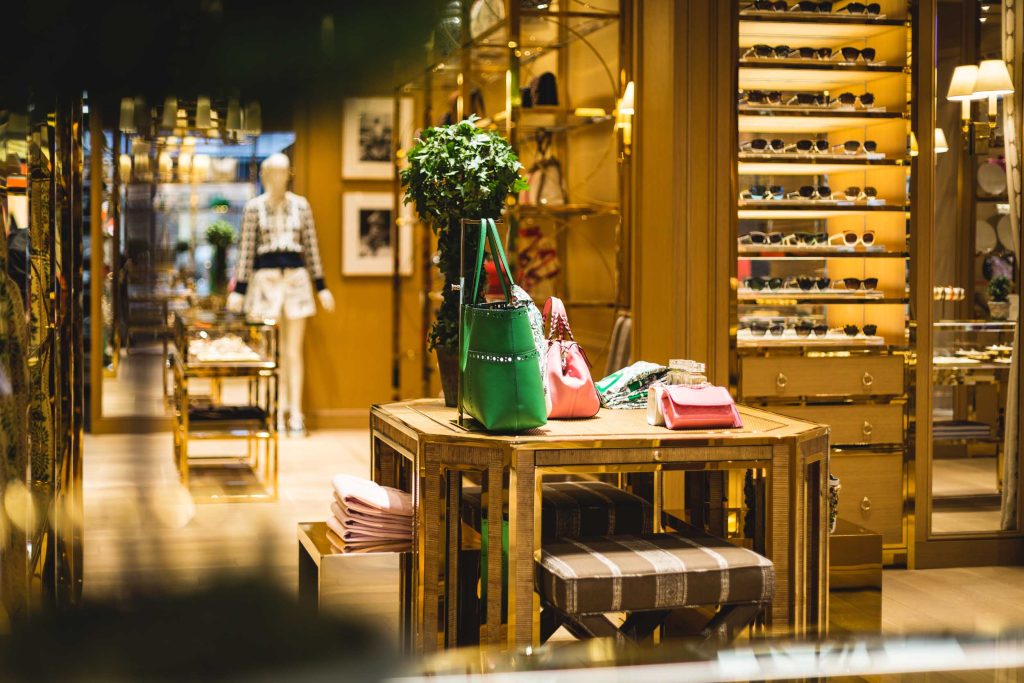 Stores can tailor their offering to the needs of particular neighbourhoods, making sure they deliver what local or regular customers are looking for. But they can also become mirrors into the history and context of a location or building. Drapers talked about how Anthropologie's new stores 'embed local heritage into their design. In its Winchester store, it has incorporated the building's history as the town's first 'talkie' cinema with vintage chairs and projections'. The store can provide location-specific products and experiences whilst offering an education to its guests.
So, why shop? We shop because the store of the future excites us. It lifts our gaze from our screens and out to our local communities. It introduces us to new brands and campaigns through carefully curated in-store layouts and experiences. It gives brands a context. The opening of digital windows doesn't mean the closing of shop front doors. Instead, it sings of opportunity to give the high-street the shake-up it's been crying out for. 
Union House, 182-194 Union Street, London, SE1 0LH
enquiries@adrankdev.co.uk